Margaret M Ford - Author
Latest Press Release:
Previous Press Releases:
• Paperback editions of Beneath the Stone and Lament for the Dead will be launched December just in time for Christmas.
•
Crime and mystery novelist follows trail to success with e-books (MMD Newswire) May 1, 2012.
Audio Interview:
• Listen to the recent interview of Margaret M Ford on Radio Z333 Australia/BBC World Service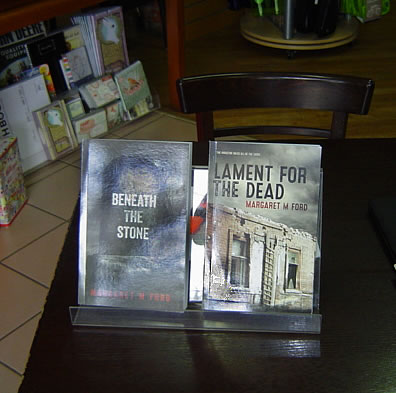 Margaret was interested in writing from as early as her teens but never seriously considered it as a career. In 1985 she struck lucky with the publication of her first short story in MIZZ magazine. She subsequently enjoyed success with further publications of her short stories and technical articles in various womens' and trade magazines. For many years she encountered difficulty in finding a publisher or literary agent to take on her full length novels. In 2012 all of her books to date were published as eBooks on worldwide eBook stores.
While actively pursuing a writing career, she was promoted to Managing Director of a UK based manufacturing company in 1987. Upon retiring from her job in the UK, where she was born, Margaret moved permanently to Australia in October 2010 and became an Australian citizen in 2014.
After completing her sixth novel and a book of short stories, her latest novel, Beneath The Stone, and her best selling e-Book, Lament for the Dead, were both accepted for paperback publication in Australia.
---
Article in The Sentinel Newspaper back in the UK, - "Author's search for sheilas" Posted: January 30, 2015